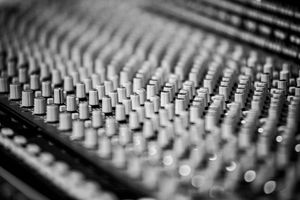 The EQ (Easley Quartet) 
The Easley Quartet (The EQ) is a new collaboration of some of the most revered jazz players in Atlantic Canada. The group features Tom Easley on bass, Mark Adam on drums, and the dual guitar attack of Geordie Haley and Kevin Brunkhorst. 
With a sound that speaks to both classic jazz aficionados and fans of groove oriented artists like Medeski, Martin and Wood and Bill Frisell, The EQ shines a new light on jazz while still honoring its tradition. 
The EQ was formed by bassist Tom Easley in 2017 when he enlisted a group of session players to perform a collection of new original compositions for a series of shows. Driven by the success of these shows and the audience's reaction, the group entered the studio to record. 
"The decision to record was fueled by an immediate distinctive sound and chemistry," says Easley— a sound and chemistry that is evident throughout the group's debut album, The Starting Point vs The Steep Decline. 
Drawing from folk, rock, and jazz influences, it is immediately evident that this album veers sharply to the left of the genre's centre. Dirty guitar tones, hypnotic grooves, and a hint of psychedelia work together seamlessly on The Starting Point vs The Steep Decline -  but can't begin to mask the stellar musicianship beneath. 
Adjust your standards – The EQ is not your standard jazz quartet.